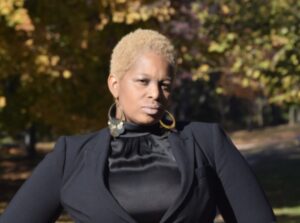 Natasha Rodgers, the CEO/Founder of the Simuel Whitfield Simmons Organization, holds a Bachelor of Science degree in psychology and is a certified social worker in the state of New Jersey. Prior to founding SWS, Natasha worked with many organizations throughout New York, New Jersey, and Georgia.
Natasha received her upbringing in the Humanity Baptist Church in Newark, New Jersey, where her grandfather, Reverend Simuel Whitfield Simmons was the founder and pastor. She watched in admiration as her grandfather involved himself in every aspect of his community. He provided food, clothing, shelter, and a good shoulder for many in his community.
As a young girl, volunteering with her grandfather in the community had a great impact on Natasha's life. As she grew, she felt a strong compassion for people, the way they felt, the problems they were encountering, and how she could assist them. Natasha made a promise to herself that no matter where she was she would help the people in her community.
So in addition to helping his community, Reverend Simuel Whitfield Simmons also did something greater. He inspired a little girl, his granddaughter Natasha, by teaching her the need for compassion and loyalty to her community and her world. Today the torch still blazes and the passion to help has birthed the SWS organization that not only honors his legacy but also continues it.
Natasha is passionate about her work, as evidenced by the awards she has received:
The Russell Berrie Award for Making a Difference
The Women Who Make Magic Award, from Magic 98.3.
The Doris Garrett Award
The Somerset County United Way Star Award

Somerset County Democratic Committee Black Caucus 2017 Community Activist Award

2018 SisterlyKiss Phenomenal Woman Award from Shaila Scott WBLS radio Station

2021 National Council of Negro Women (NCNW) Community Service Award (see more)
Her work has also been featured on several mass media outlets:
ABC News
98.7 Kiss fm
Hot 97
Magic 98.3
The Star-Ledger
The Home News Tribune
Courier News
New Brunswick Tomorrow Newspaper